We're living in an unmistakable digital age ("OK, granddad…"). With this in mind, and with all the various channels available, why is having an artist website still so important?
I guess social media is here to stay, and that's a wonderful thing for anyone who can use it well! However, investing your time heavily in any one platform could be a gamble. You are beholden to its ever-changing rules, you can barely customise anything to suit your brand, and there's no guarantee all channels will stay around forever.
You may have also built a formidable client base purely by regularly attending markets, fairs and exhibitions, and using physical adverts/word-of-mouth. These in-the-flesh calling cards may not be quite enough to fortify your presence alone either. Chances are you don't have a work studio open to all, at any time. You need somewhere people can go to remind them you exist!
I'll simply repeat advice I've heard time and again…
As an artist, you are strongly recommended have your own artist website.

The benefits of making your own artist website
Your artist website, if you choose to have one, is "terra firma", the headquarters of your online presence. It's not necessarily the most top-of-mind channel for people to connect with you. It is, however, the only online space where all the power is in your hands. From here, you can do all manner of things. You can tell your own story, uncut, using your own voice, in whatever style or length suits you. Let the website design and function be the "robotic" element here – this is your chance to really inject your personality!
It's important to seal off a corner of online real estate permanently, stand by it proudly and call it yours. This is especially salient at a time when simplified, "throwaway" short-form content is both encouraged and celebrated. Where is that social post from April 2021 you took time out of your day to write so conscientiously? Hopefully in someone's "saved" folder if it was worth anything to them, but on a website, you can be confident all your content is where you want it, for good.
It's worth underpinning your reputation as an artist with a sense of familiarity, consistency, appeal and trustworthiness. Your artist website should be a fitting embodiment of all this. If you are looking for representation by a gallery, a website may even be essential. After all, it's the most convenient place to present your very best work. It is a hallmark of "professional" status (aspired or already achieved), however you define it.
How should you go about making your own website?
Whether, and how, you want to go about creating an artist website will depend greatly on a few factors:
The direction you want to go with your art career.
How "seriously" you're taking it.
Your level of expertise with web development.
How much spare time you have.
How varied you like your day to be.
It will also depend upon your objectives. Making and maintaining a website can take time and money, so it's worth stopping for a little while first. Think through exactly what you want, when and why. Do you want to sell directly, create subscription-based courses, publicise events, write blogs, direct visitors to your newsletter, or anything else? If you're trying to avail a website's full potential in one go, you'll likely give yourself too much to do. Focus on one or two key things, and let any other ideas percolate in the fullness of time. Just make sure you're meeting your main aims thoroughly, first and foremost.
Content Management System
Content management systems (CMS) like Wix, SquareSpace and WordPress offer very accessible "front end" site building options (no coding knowledge required). Then of course, there's the option to either code everything yourself, or approach a web developer. No matter which method you choose, each has associated costs. Some CMS are free, others aren't. You also need to pay ongoing fees like web hosting, any special maintenance or fixes, and domain renewal, regardless of your approach.
I took quite a lot of value and satisfaction from building my own site in 2016 using WordPress, an experience which I'll preface firmly by saying I had zero know-how. I did, however, love slotting an hour of this into my day for a little while. It offered a sense of variety, and I could watch everything slowly take shape.
My family see me as some kind of tech whizz (because I can "save as" instead of just "save" documents!). Nothing could be further from the truth. However, if all that separates a job done poorly or a job done better is a readily available online guide or two, I will approach it with a "can do" attitude. If I can do it, with the valued "leg-up" of a CMS, I believe just about anyone can.
The best thing about a CMS is you don't need to learn code. The setup is usually very intuitive. All the technical stuff is built into templates and plugins provided by the CMS, ready "out of the box". You'll only spend around £15 per year to keep your domain, and an annual fee for hosting it (which can vary), but no money and not much time is needed to build it.
What options are included in a CMS? How do you start?
Templates
Templates let you present your site in a way that resonates with you and your brand. They're a visual footprint you can easily modify, but in limited ways. The most popular and downloadable templates are usually free. The upside to a popular template is that enough people have vouched for it; it's stable, stylish and effective. However, you may wish to purchase a "premium" template design if you want a little uniqueness!
Plugins
Plugins address pretty much every need, and tailor your site most ways you can dream of. These are 3rd party extensions, which are "plugged in" to your website's back end files, and are ready for immediate use. Most of them are free, often with a paid "premium" version. It's up to you which of these is worth your investment (either a one-time payment or a subscription).
Perhaps one plugin offers a backup function, and the premium version offers scheduled backing up with advanced encryption. Another may let you sell goods, while a premium version will include some enhancements. It may address "abandoned baskets", offer visitors a pay by installment option, and generally provide ways to ramp up your website conversions.
---
Now you're equipped to flesh out your website with all your content. You're an artist, so what comes first?
Images on an artist website
A universal and clear objective for your own artist website is, undoubtedly, to show your work. Taking accurate and clear photos is essential in your collation of this content.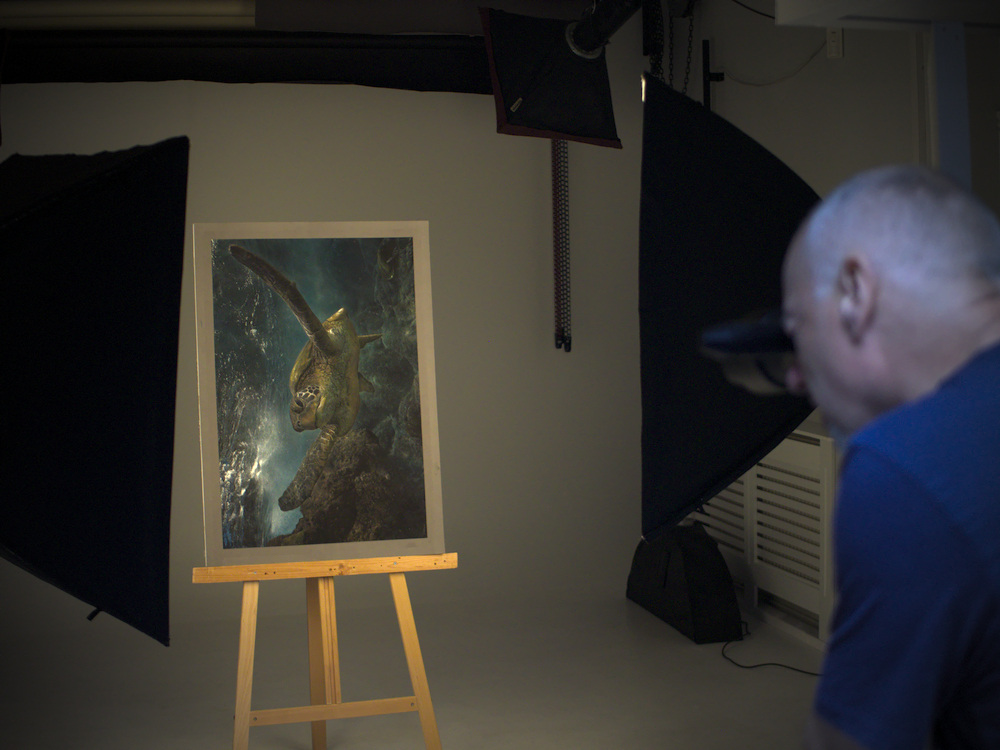 Pages containing lots of images, as yours may, can take a while to load. Long wait times are a major reason visitors leave your site, so don't upload anything too large. Pictures with a width of 1000px are more than adequate for web use, especially as, in 2023, most people view websites through small phone screens. Include captions and meta descriptions on each image for better search engine optimisation (SEO).
Search Engine Optimisation
SEO is a set of rules and indicators provided by search engines. When a web page abides by them, its visibility in search engines increases, gaining higher placement in search results.
There are many SEO improvement tools available online, including plugin options. They analyse your website and automatically make suggestions on how to improve SEO. This includes meta descriptions, keyphrase and subheading distribution, back links, sentence structure and more. It's quite a hefty topic in itself, and deserves your attention if you'd like your own website to gradually creep up the rankings for certain search terms. One great way to boost SEO is through writing blog posts.
Blog writing
The trouble with an artist website is that images aren't as "searchable" as text, even though you can include meta descriptions, captions and file titles to help. The image of the tiger you just spent so long carefully painting sadly isn't going to come first in a search by itself.
I've filled my website with all manner of blogs over the last few years. Blog writing is very beneficial to SEO, as text is far more searchable. It also helps you to position yourself as a credible presence in your field. You can write about anything at all. Perhaps the focus of one article can be an in-depth description of your artistic process, or a day in the life. Another can recount a safari trip you took. Maybe another can be a helpful guide – to websites, for example!
A blog post is a zero cost, low storage feature (compared with the storage needs incurred by images). It contributes to boosting SEO, and helps keep your audience connected with you, and more deeply informed about you than through other channels.
Selling advertising space on your artist website
Perhaps you'd like to supplement your income by offering advertising space on your site. This is, again, worth a blog post on its own. One prerequisite for selling ad space is high levels of site traffic. Anyone testing the water with websites probably wouldn't attract this immediately.
From initial setup to the time of writing, I have avoided selling ad space. I always wanted my site to be free of noise, with undisturbed content which speaks for itself. It's a sticking point for me as a visitor, too. I don't enjoy seeing popups, flashing images or videos. It all feels like clutter to me, and if I'm proud of anything, it's my artwork. A gallery should be spotless when it opens to the public, so it makes no sense to me if my "online gallery" isn't, in its own way. Presenting my work in the best possible light is my highest priority. Of course, we're all different, and you may like to pursue selling advertising space. I've seen a number of artists benefit greatly from it.
The tipping point
On the odd occasion where plugins failed to address a very specific problem, I could search the web. The solution would involve an additional script I could insert without having to go into the "back end". Over time, I'd overreached, adding a few too many of these plugins and scripts. The scales tipped when they didn't all agree with one another – I was out of my depth! The site no longer very elegant, stable or fast.
My website operated just well enough, for long enough, without being perfect. I knew the time would come where I'd need to call for help. Once a few issues had compounded to the point they were more of a real hindrance than just a inconvenience, I made the jump and outsourced a fresh design to a professional.
Final thoughts on your artist website
I hope you're excited at the thought of making your own website if you haven't done already. If you're anything like me, you will be! There are lots of options available to you, allowing you to create a stylish online base for your business.
In general, if it's possible to do it yourself, to roughly 80% of your satisfaction as an interim measure and without a heavy investment of time, I'd recommend it. Keep one eye open for a fairly-priced web developer to set about making a definitively "you" website eventually. Until then, chill out, learn little things as you go, and enjoy the process. 🙂