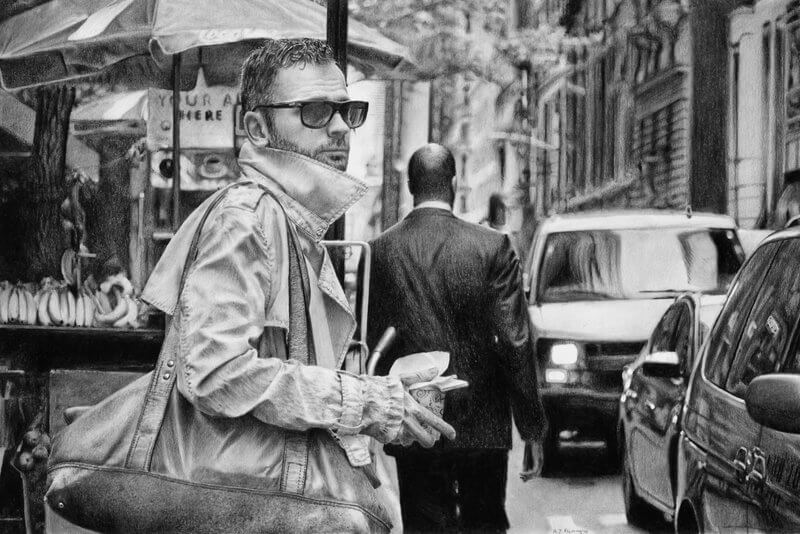 It's been a second since I took a dive on an old favourite. This is the busiest piece I've had to get my teeth around to date. No surprise, as it's from a photo I took in New York. You know what they say about that place. "The city that never isn't busy." Exploration time.
Graphite came into its own on several occasions. It was particularly appropriate for diese bananen, and this stitching. The bananas were off in the background, meaning a narrow range of values, all needing a little meticulous attention. If you're looking at this, or any of the following close-up images, on your phone screen, it's only a touch smaller than the actual size I had to bash about with each time. I don't think I'd have been able to hack this with crumbly charcoal.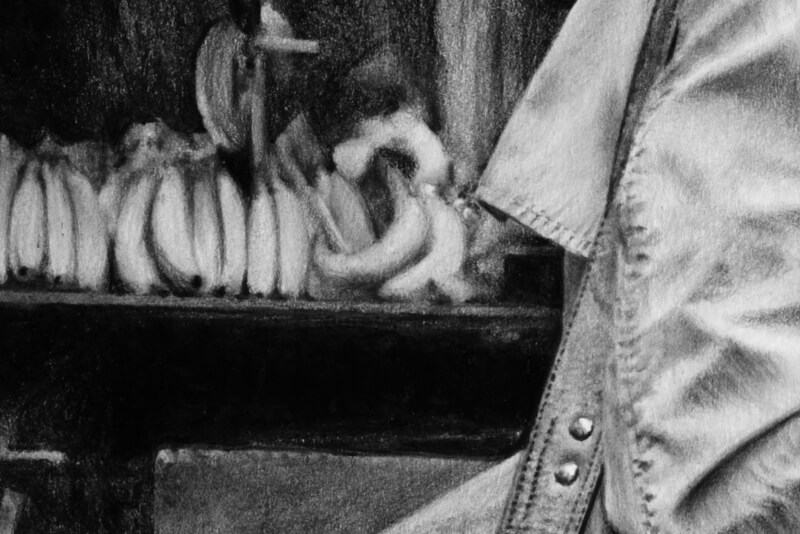 Sometimes the most testing bits are the pure tedium of meaningless background. But you do it, it's a crap job out of the way, and provides context. The context of Manheeehten, Noo Yuuaak. Brownstones. Yellow Cabs. Giuliani. Great pizza by American standards (mee-ow). Friends. I mean the sitcom. Not actual friends. Unless you live in New York, in regular company of those you quite like.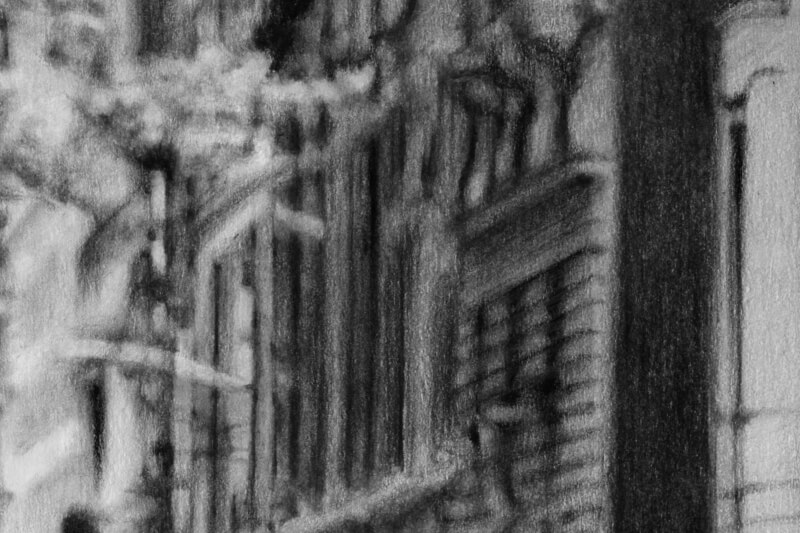 We need to talk about bags. The leathery complexity. The flipping paper grain. I used everything from 8B to 2H on this. Lots of dots to make up the texture, pressing down hard when the paper grain was truly adverse. All the same, a satisfying texture build.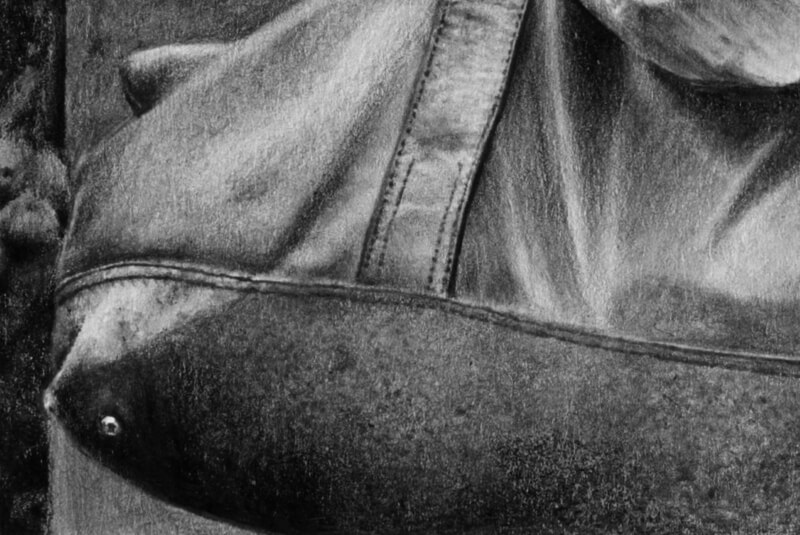 Coca-Cola branding on a parasol. "Your ad here" (not crazy about my lettering ability at all). Greezy hair. A starchy collar. Reflected light off the stage-left cheek, through the polarising lens. And a mystifying look. Be it the photo or the drawing, I still don't know whether or not he was looking at me as I crept around trying to blend in, shooting off to the side of the pedestrian crossing. My first real street photo!
I used a ruler for the straight bits. If you don't have the skills, find a way around them. I'm not ashamed of it, and nor should you be if you do the same.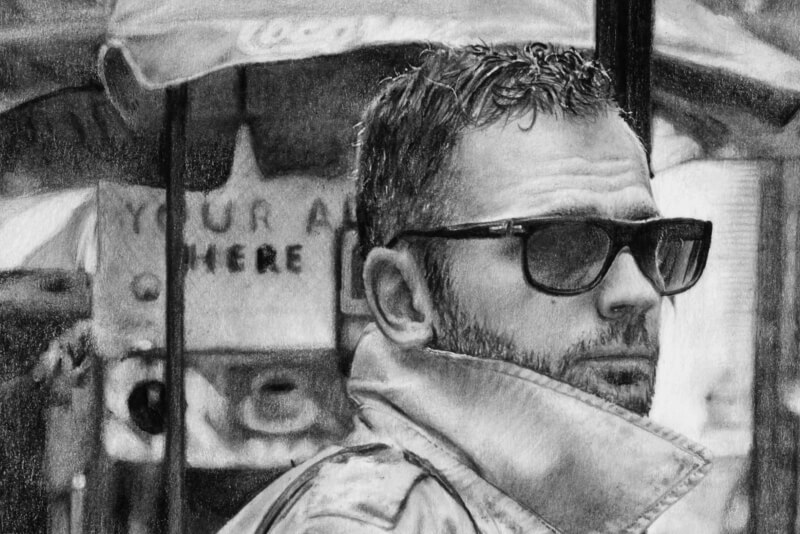 Strap (embossing tool to bring out the white leathery cracks), crate trolley handle, hand, coat texture, coffee cup. Another win for team graphite. Not so much can be said for the black blazer in the background (8B).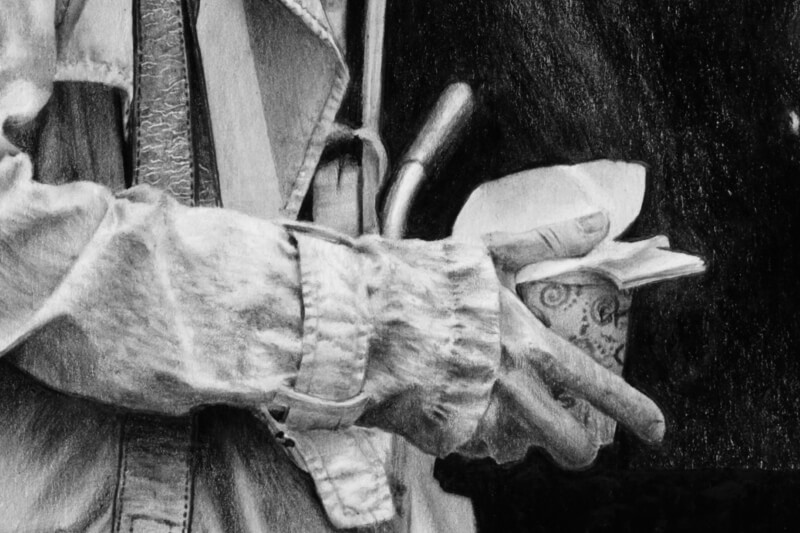 One of the few areas of bare paper, to show off the direct bright headlight. Bonnet and brightest window reflections using 6H, with varying pressures.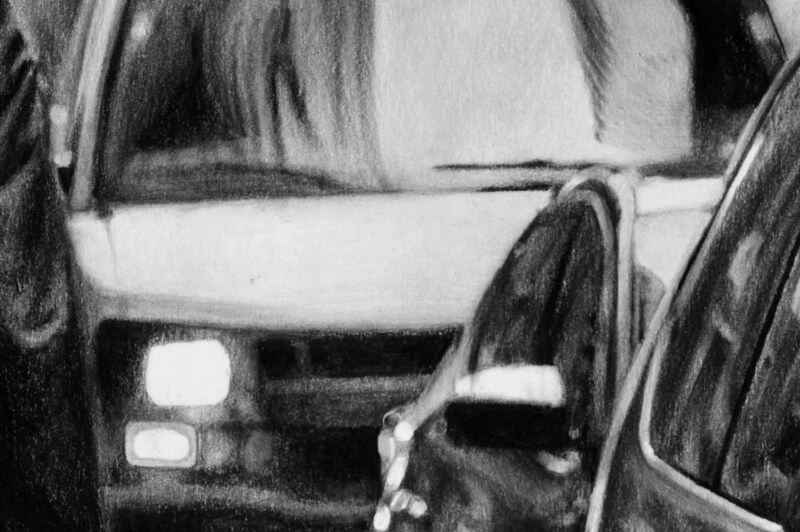 Deep reflections in the dark car doors. Really satisfying, as the highlights (using a Tombow erasor and an electric erasor) popped nicely, but softly once I'd blended the transitions.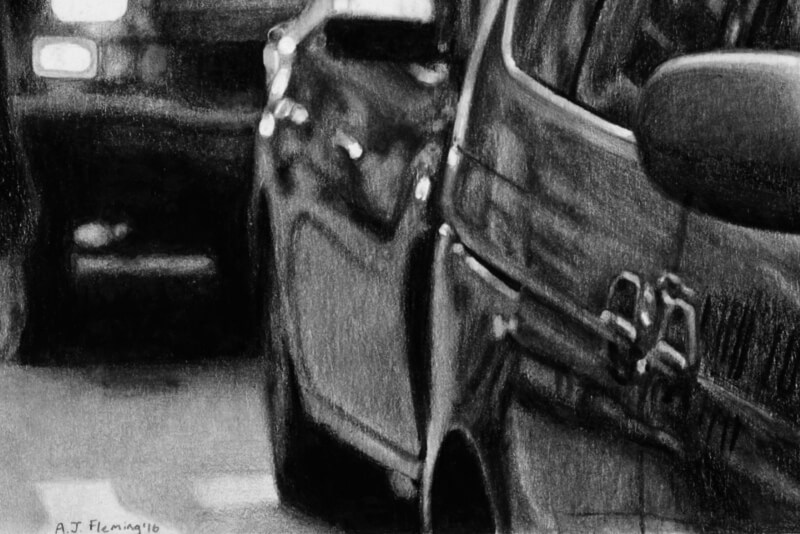 All in all, not technically my best, but a proper triumph along the road to more intentional graphite work. This piece is still for sale (original and print), with £5 per print sent directly to the Yemen Crisis Appeal.